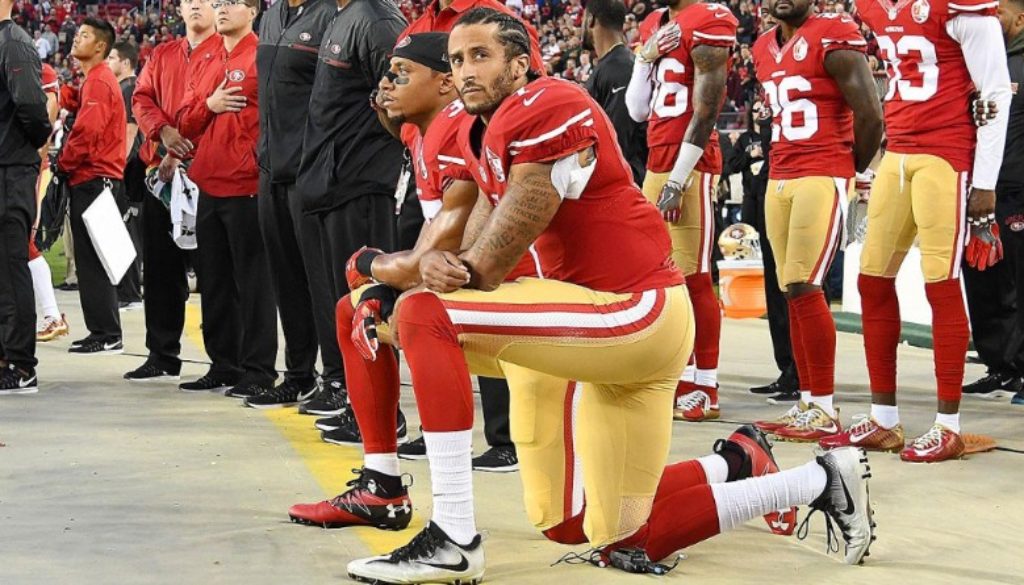 November 2018
Death of Black Men at the Hands of Police Officers
01.  Eric Garner – July 2014, New York City, NY
02.  Michael Brown, Jr – August 2014, Ferguson, MO
03.  Laquan McDonald – October 2104, Chicago, IL
04.  Tamir Rice – November 2014, Cleveland, OH
05.  Tony Robinson – March 2015, Madison, WI
06.  Eric Harris – April 2015, Tulsa, OK
07.  Walter Scott – April 2015, North Charleston, SC
08.  Alton Sterling – July 2016, Baton Rouge, LA
09.  Philando Castile – July 2016, Falcon Heights, MN
10.  Terence Crutcher – September 2016, Tulsa, OK
In 2016, Colin Kaepernick (NFL quarterback) took a public position concerning the killing of Black Men at the hands of police officers.  At first, he sat, and then he kneeled during the playing of the national anthem.  The decision to take a public position on an issue is not easily made.  Such decisions can be detrimental to one's livelihood, as his professional football career could be at an end.  I guess the death of 10 Black Men was important to him.
 
Colin continues the journey of public protest, and has been awarded in many ways:
November 13, 2017, named 2017 Citizen of the Year by GQ Magazine.
December 6, 2017, presented Muhammad Ali Legacy Award for his passionate defense of social justice and civil rights for all people.
July 3, 2018, the nation's largest teachers' union honored him with the President's Award, described as the "NEA's highest honor at its Human and Civil Rights Awards ceremony.
August 30, 2018, won a key battle in NFL collusion case.
September 3, 2018, Nike confirmed that he would be the face of a new ad campaign for the 30th anniversary of their 'Just Do It' slogan.
 
We all know that the issue was not about kneeling or receiving awards, but about the loss of Black life.
 In 2017 the national anthem became a prevailing issue in professional sports, and one taken up by Donald Trump.  Donald stated that athletes should be fired if they kneeled during the playing of the national anthem.
 
In 2016 how many Black NFL professional athletes took a knee with Colin for the lives of Black Men?  There were few.
 
In 2017 how many professional athletes took a knee because of what Donald said?  If memory serves me correctly, many professional athletes took a knee, or stood by a fellow athlete that took a knee.  The issue of kneeling now spans among many ethnic groups in multiple professions (NFL, NBA, WNBA, MLB, etc.).
 
As a result of Donald's words and the expansion of athletes kneeling, the front burner news issue became corporate league policies on athlete protocol during the playing of the national anthem.
 
Today Colin is not playing for any NFL team.  And, quite possibly will never play again.  This is because he took a knee for Black life.  Once the corporate league policies are put in place, I would assume athletes will adjust accordingly.
 
What if athletes throughout the multiple professions had taken a knee with Colin in 2016 rather than a knee against Donald in 2017?  I think today's front burner issue would be policing of life in the Black community.  It has been reported that over 200 Black Americans have been killed by police since Colin took a position on the issue.  But why talk about Black life when we can focus on which corporate owners will allow athletes to kneel, not kneel or stay in the locker room during the playing of the national anthem.
 
I am not criticizing standing (or kneeling) against someone's agenda.  But, I believe we got off point when the athletes protested against Donald.  Donald will leave office one day.  Corporate league policies will be settled.  Neither of those situations have anything to do with Black people dying at the hands of police officers. Accordingly, the only thing that has been accomplished is a reaction to someone's agenda.
 
Martin Luther King, Jr. and John Lewis marched many miles and spent many days in jail for the God given rights of Black people.  Others did the same in "Unity With" them.  The goal was to create an existence of equality for Black people.  Martin was assassinated in 1968.  Given that Colin had to "take a knee" in 2016, I wonder if we dropped the ball; the ball of pursuing our liberation and equality.
 
The blood that runs through the veins of Black people is strong, powerful, wise, resilient and prosperous.  It is my desire that our Black community grows and extends to our future generations.  Within our community we have many Heroes and Sheroes that need our support and encouragement to aid in the prosperity of our Black community.  It is my belief that every one of us was borne with a unique gift to promote our prosperity.

My impression of today's atmosphere is that of "Unity Against" what happens to Black people.  While it is right to stand against acts that are detrimental to our community, the approach is short-lived.  We riot and protest in reaction to tragic events, and afterwards the "15 minutes of fame" are gone.  Our condition remains unchanged.  Where is the investment in the conditions that result in tragic events?  Do we think about, talk about and ultimately act upon the many dehumanizing conditions that impact our Black existence?  In other words, where is the "Unity With and For" addressing the conditions of our community?
"Unity With Colin" can be our journey.  "Unity Against Donald" can be our fate.